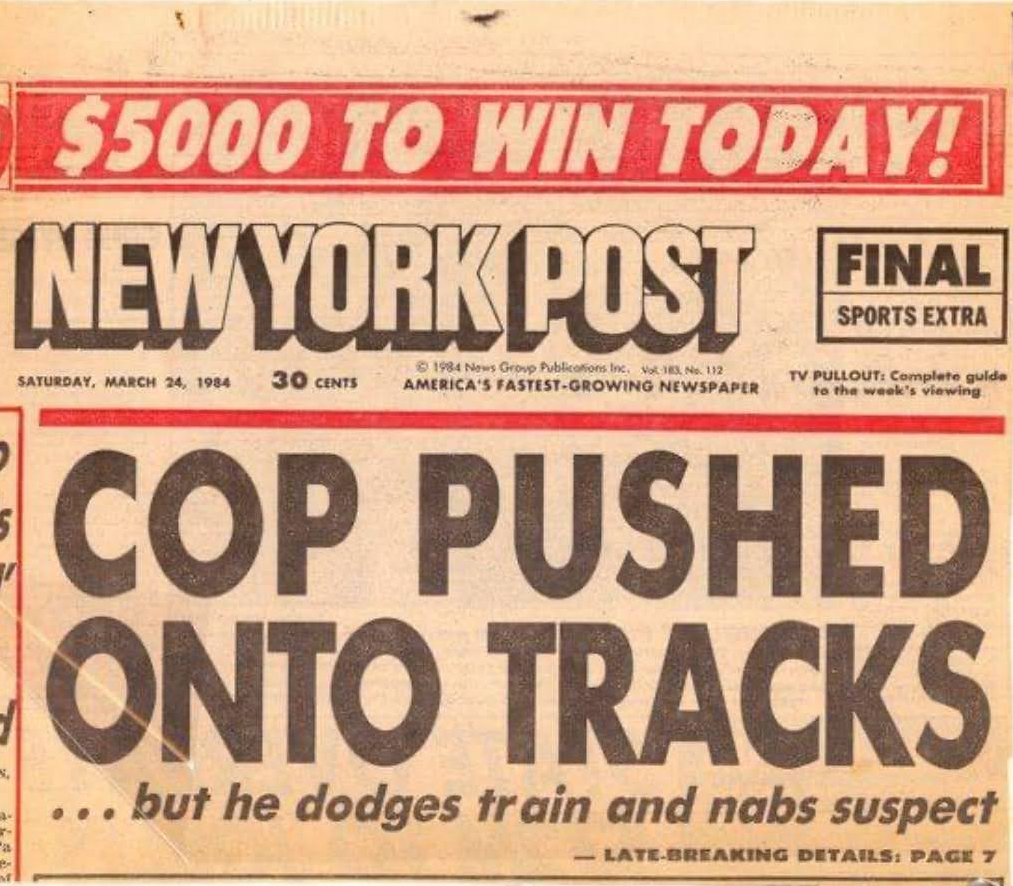 Image Credit: The New York Post
Originally published by The New York Post on March 24th, 1984
A transit cop narrowly escaped death yesterday when he was knocked onto the subway tracks at Canal Street by a towering attacker who laughed in his face when he tried to issue a summons.
But the quick-thinking cop not only scrambled back to the platform as a train approached – he then chased his alleged assailant, leading to his capture.
"He started laughing" said Officer Saul Roth, recalling how the incident started.
"I tried to put the cuffs on him. He pushed me and ran away." He was trying to get my nightstick. I was trying to take it back. Then I was on the tracks." "I saw a train. I saw the lights. Then I jumped up. I don't know how soon after it came in."
Roth, who is 5-5, was riding the M train when he confronted his 6-3, 200-pound assailant and two companions in the rear car.
The suspect, Billy Davis, 19, was smoking a cigaret.
The uniformed officer, who was riding alone, ordered the three men off the train.
Then he attempted to give a summons to Davis.
As Roth tried to handcuff him, Davis laughed at him and a fight ensued, Roth Said.
The cop was knocked to the tracks during the struggle.
After jumping back onto the platform, Roth chased his attacker though the station, catching up with him.
Another fight erupted, but this time Roth won, despite the injuries he suffered falling to the tracks.
He arrested the suspect with the help of two other officers and brought Davis to Transit Police District 4 at Union Square.
Roth then went to St. Vincent's Hospital, where he was treated for minor injuries and released, police said.
The incident follows an attack last week in which a derelict allegedly tried to push a nursing student in front of an IRT train at Penn Station.
The student was kicked and punched by the 6-foot suspect but avoided falling off the No, 3 platform, police said.
Last month a young woman was killed after being pushed in front of an IRT train at the Canal Street stop, allegedly by a deranged city school teacher.
In a celebrated 1979 case, music student Renee Katz had her hand severed at the wrist after being pushed in front of a train. Her hand was later reattached by Bellevue Hospital microsurgeons.
According to transit police union leaders, about 10 officers a week are assaulted – punched, kicked, shot or stabbed.
But officials could not recall a previous instance of an officer being pushed onto the tracks.